Lake County Welcomes New Firefighters and Recognizes Outstanding Service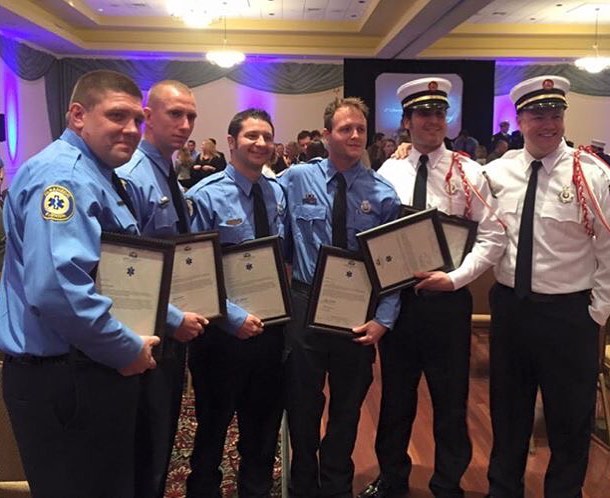 2015 Recipients of the Jack Fillman Heart Saver Award
Mt. Dora, FL – Hundreds of friends and family members filled the room at Lake Receptions Friday night as Lake County welcomed 18 new hire recruits and recognized life-saving actions of firefighters in 2015. The 18 new firefighter recruits recently completed a 5 week training school with Lake County Fire Rescue to become candidates for hiring. 12 of the new firefighter have taken a full time position with the county to replace firefighters that left in 2015. The remaining firefighters will be called up as positions become open. Each graduating firefighter had their badge "pinned" on their uniform by a family member in a ceremonious process.
Three firefighters were promoted to the rank of Lieutenant. Firefighters Jeff Sacco, Ross Pinkerton, and Glenn Bidwell were "pinned" with a gold badge and a single bugle in the Lieutenant promotional ceremony.
Lake County Fire Chiefs John Jolliff and Jim Dickerson welcomed all the new recruits, congratulated the recent retirees and presented the awards in the packed reception room.
A new award was established this year in honor of late Assistant Chief Jack Fillman, who lost a battle with cancer this year. "Chief Fillman was passionate about EMS so it was only appropriate to establish a Life Saver Award in his honor" explains Lt. Brian Gamble, Vice President of the Professional Firefighters of Lake County. "Chief Fillman would be very proud of these firefighters that received this award this year." Each story was read of the patient that went into cardiac arrest, and the firefighters performed live saving skills such as CPR and Defibrillation (shocking the heart). The following firefighters successfully revived a patient this year, to a point where the person left the hospital. Firefighters on Squad 72, Lieutenant Bill Tillery, Fire Medic Chris Martin, and Firefighter Tim Herman. Station 82 had two different shifts that saved a patient, with Fire Medic Mike Zipperer, Firefighter Eric Hutson, Firefighter John St. Clair, and Firefighter Gee Farias. Also receiving the Jack Fillman Life Saver Award was a crew on Squad 109, Lieutenant Chuck Blinco, Fire Medic Nick Lewis, and Firefighter Gee Farias. The final crew to receive the award was Station 112, Lieutenant/Paramedic Eddie Johnson, Firefighter Jeff Michels, Firefighter Anthony Bresciani, and Firefighter Scott Summers.
Lt. Shannon Bush was selected as Fire Officer of the year for saving the life of 4 year old girl when he was on vacation. The 4 year old was drowning in a resort pool and was pulled to the side where Lt. Bush performed CPR on her until she was revived. The little girl was reunited at the awards ceremony with Lt. Bush for the first time.
"We are extremely proud of all these guys and the lives they saved just last year. It goes to show their dedication they give to their job and their skills they constantly train on day in and day out. It doesn't matter if they are on duty or not, they are always willing to help save a life" Gamble states.
Lake County ran over 21,000 calls for service in 2015. Of those calls, Station 52 was recognized for the busiest engine in the county running 2,057 calls in 2015.
The ceremony was closed out with the ringing of the bell in memory of late Assistant Fire Chief Jack Fillman.